Ever since the first iPad was launched back in 2010, Apple has dominated the tablet lineup. With the latest release of iPad Pro, Apple steps in further closer to the giant technology and iPad Pro being the Apple's big option.
The Apple's three models offered with different size screens, DisplayMate were  compared to get one of each of Apple's current iPad lineup and make a comparison.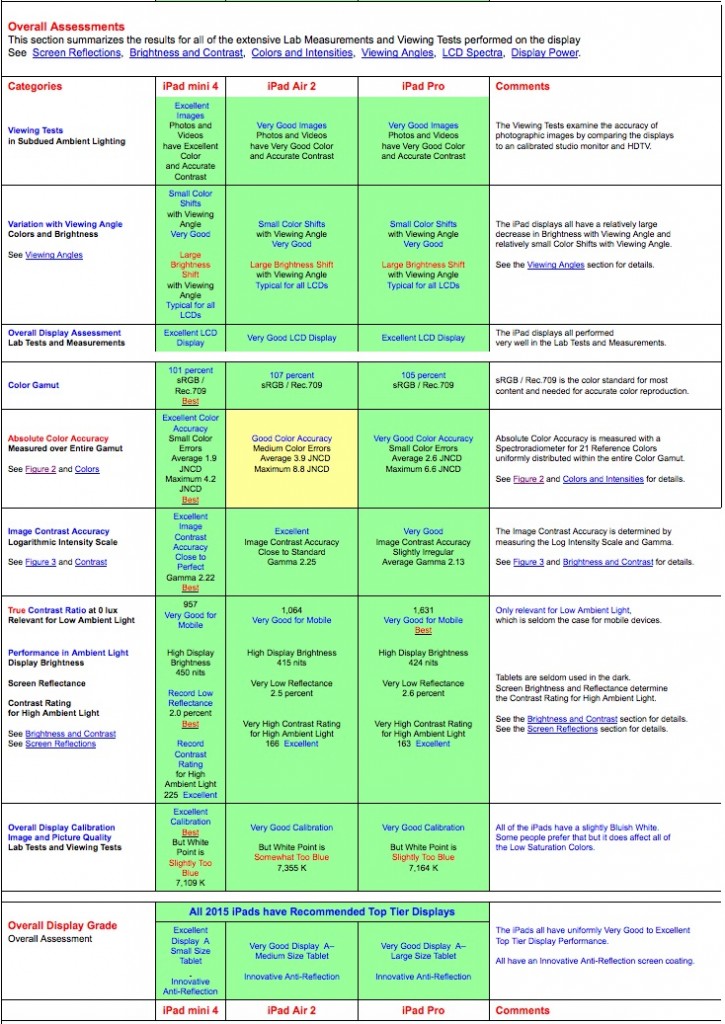 iPad Pro
The iPad Pro, launched last month, offers a wide range of performance improvements over previous iPads including higher specs and swifter performance.
The new A9X chip has twice the memory bandwidth of the iPad Air 2 and significantly with greater storage. And Apple claims that the new iPad Pro is more powerful than 80 percent of portable PCs, which was sold last year. Apart from portability, iPad Pro excels in all other categories. However it is costly but those who can afford it will likely find it to be the best tablet on the market ever.
iPad Air 2
The iPad Air 2, recently the newest and the brightest of the iPad lineup. Even a year on from its release, the iPad Air 2 is a very impressive one, beating this year's Samsung tablet offering, the Galaxy Tab S2, in a recent performance comparison. And certainly iPad Air 2 is also much more portable than the iPad Pro.
iPad Mini 4
The new iPad Mini 4 is said to be better in every way than its predecessors. It offers the same functionality and performance as the iPad Air 2, which can be said as a repackage of iPad Air 2 in a smaller form. The iPad Mini 4 offers a fully laminated display which, coupled with its anti-reflective coating, which makes it much easier to use when it is sunlit. The major difference between the iPad Mini 4 and the iPad Air 2 is the screen resolution. However, iPad Mini 4 is the cheapest of Apple's tablets.
Finally, as reported Apple's iPad lineup is the best in the business as far as screen quality is concerned, so it doesn't matter which model you go for, anyhow you will end up with getting one of the best displays in the tablet market. The option of which iPad to choose is really depends on how much money you are willing to afford and how portable you want your tablet to be.