Surface Pro 4 and iPad Pro may look a lot alike, but they are not really that similar. In terms of components, the two are very different.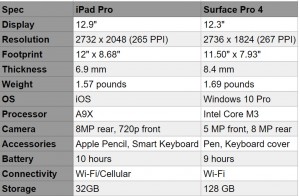 Apple's newly-released iPad Pro is currently acquiring lots of attention. But the actual question is whether Apple's latest iPad Pro can bestow the offering of  Microsoft's Surface Pro 4 when it comes to speed and power.
Both devices support keyboards and stylus. Apple has made the new Apple Pencil stylus, which will work exclusively with the iPad Pro and Apple Pencil adapts to how much pressure you put on it. However, Apple's Pencil is an add-on that will cost $99.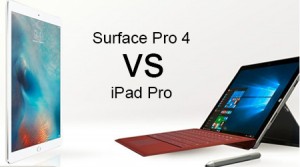 Contrarily, Microsoft's Surface Pro 4 ships along with a Surface Pen stylus and its body is magnetized and hence when it is not in use, the Stylus Pen can be stuck to a spare edge.
The iPad Pro runs Apple's latest A9X chip which makes it fast and powerful. Whereas, the Microsoft Surface Pro 4 has an Intel Core M chip, and at its highest configuration, an Intel Core i7 chip.
The Surface Pro 4 has the guts of a laptop,  running full desktop OS Windows 10, and it is definitely a better laptop than a tablet. In other hand, iPad Pro solely runs a lightly modified version of iOS 9 – the same OS the iPhone uses. And iPad Pro's strength will always be its A-class iOS apps and games, and arguably it is a better tablet than a laptop.