We all been in those situations where we get anxious whenever someone picks up our phone to have a look? Whether in office or in home everyone wants to hide their personal stuff like private photos, videos, documents & files from colleagues or family member. We all like to keep some things hidden from people, & sometimes merely employing a screen lock isn't enough.
In Case if you are a business tycoon you would rather take the risk what could happen if yours smart phone gets into the wrong hands, but by chance if it happens forget about your privacy & upcoming deal's /projects because the snatcher get the access at all your important stuff without any difficulties & can use it against you. Let's face it, but I'm sure you're thinking how can we protect them when someone attempt to access & read our handset? As we know the smart phone is a pile of highly useful functions. Without further delay I like to mention the name of a magical app which fully control over your privacy. Download today the Brand New Gallery Locker app powered by iTianz iT Solution & stop worrying about your confidential content falling into the Wrong hands. The superbly intuitive & lightning fast user interface makes Gallery Vault app so handy.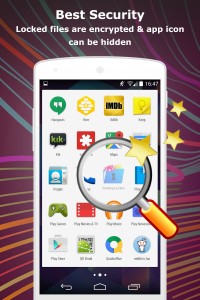 Gallery Lock as the name suggests it is a very straightforward approach for the best privacy protection app to easily hide & encrypt your photos, videos & any other files that you do not want others to see on your device.
Gallery Vault allows you to hide its app icon & keep your privacy absolutely safe. You can import your personal images & videos in this secure vault, & nobody will knows the existence of the app. Protecting your privacy by hiding all kind of files using password. You can easily manage the folders or albums of gallery & view it, move & export pictures. User can select single or multiple files (select all) for hiding. Hidden Files can be shared to email, WhatsApp, snapchat, Facebook, share it, xender, or to any app from gallery locker without unlocking it.
*Tested on Gallery Locker (Folder & File Locker App) app version 2.0
PROS
CONS
• Quick lock from gallery (Share to Gallery Locker to hide files without opening app)

• Support hiding icon, & no one knows the existence of Gallery Locker except you (best way to keep Gallery locker app hidden)

• Recycle Bin contains all deleted files, you can restore them before 60 days (Recover files if you have deleted by mistake)

• Auto-lock WhatsApp media downloads (Watch Dog)

• Fake PIN to show fake content

• Lock individual Folders (double security).

• Password recovery (email & security questions to keep safe)

• Inbuilt photo & GIFs viewer Supports preview, slideshow. Inbuilt video & audio player with auto resume playback.

• Inbuilt private browser available.

• Support Intruder Break-in Alerts (take a selfie of the person who is trying to break-in with attempted PIN, date & Time).

• Change thumbnail & Move between Folders, Share locked files without unlocking.

• App will not be displayed in recent task list, ensuring maximum security.

• Support Android 4.4(KitKat), 5.x(Lollipop), 6.x(Marshmallow) & 7.x(Nougat) +

• Cloud storage (Google drive) not available.

• No pattern lock or fingerprint lock available.

• Does not lock any individual apps or your entire device.

• Usage instructions for all features in the app are not available.

• Inbuilt document or file viewer is not available.

• Panic switch and dark themes are available in pro version only.

• Pro Version is bit costly

User Experience / Features:
Installing the app for the first time, the user is approached with the request to setup a PIN. On setting the same the user is granted access to the app. The Home screen has 4 bottom navigation bar, locker, discover, Add Files (+), settings & more.
Quick Lock:
Quick lock from gallery is a unique function by which you can share any files to Gallery Locker to hide files without opening app.

Photo Locker:
Photo vault supports all types of image formats like png, jpg, jpeg, svg, tif, bmp, webp. User can add any photos from the gallery to keep hidden in this location. The hidden photos can be previewed via inbuilt image viewer. Inbuilt image viewer can rotate image & can play slideshow of images. Slideshow can be set with time interval & slideshow order like sequence or shuffle.
Video Locker:
Works in the same fashion as the Photo Locker except it is used to hide videos from the gallery. Video locker supports video formats like mp4, mov, avi, webm, divx, flv, mkv, mpg, ogv, vob, 3gp, 3gp2, m4v. Imported videos can be previewed using an inbuilt video player or an external player. Auto resume playback & double tap to start over options are included in inbuilt player.
Audio Locker:
Important conversation like call recordings, voice notes, voice messages, or recorded audios of meetings or important occasions can be hidden. Gallery Vault supports all kinds of audio formats such as mp3, oog, m4a, wav, aiff, au, aa, aac, aax, amr, wma, ra, rm, raw. Audio files can be previewed using an inbuilt audio player or an external player. If your audio has a thumbnail then the player will display it. Inbuilt audio player also features the auto resume playback & double tap to start over.
GIFs Locker:
GIFs such as animated formats can be hidden. Most Android devices does not support GIFs formats but in Gallery Locker there is an inbuilt GIFs player to preview & play all kinds of GIFs files.
Documents & Files Locker:
Documents & Files Locker is used to hide important & useful files such as scanned documents like identity cards, bills, vouchers, official documents, bank statements, & work related files from gallery. It supports all kinds of formats such as txt, rtf, pdf, doc, docx, ppt, pptx, xls, xlsx, html, htm, xml, csv, apk.
WhatsApp Media Locker (Watch Dog): There is unique function in this gallery lock called watchdog (Auto-Lock) which will automatically move & lock your WhatsApp upcoming media downloads to gallery locker. You can only view Files only on gallery locker. You can unlock them to make visible on WhatsApp again when you need.
For example:
Let's discuss a scenario if you're a business person & you want to protect the details, bank statements & documents that you send & receive with your clients through WhatsApp, watchdog is the right way to monitor your WhatsApp media & once any files get downloaded on your WhatsApp it will automatically transfer it to gallery locker hidden folder. User can also select whether to hide videos or images or documents. & if a third person tries to open your WhatsApp content that's downloaded it will say that the media doesn't exists. So do not worry about your confidential files falling into wrong hands. Only you can view WhatsApp downloads from gallery locker & when you unhide the files it will be displayed in WhatsApp again.
Let's take another scenario In case if you want to hide the WhatsApp media only for certain period of time there is also an option, that you can schedule timings to hide the WhatsApp media with starting time & ending time, & auto-lock function will be enabled on the specified time period only. So you need not to worry about your WhatsApp media files when you're not near to the phone. So no one will be able to see the files in WhatsApp without your knowledge. Gallery locker is the best WhatsApp privacy protector with highlighted feature.
Discover (Private Browser):
Discover is an inbuilt browser in Gallery Locker. It acts as a private browser as you can do bookmarks, see browsing history, download files and view it. User can use this browser for private browsing as no one will know the existence of this browser as it is embedded inside the Gallery Locker app.Then 4th navigation bar is settings where you can find lots of additional features like themes where you can change the colour of action bar. & there exists an option for you to upgrade you to pro version.
Other basic functionalities like share to gallery locker, hide toolbars while scrolling, video player settings & an important feature recycle bin are available.
Security settings contain options to change pin, so u can change your pin whenever you want.
Account email & security questions are available for recovery of password in case you have forgotten it.
Recycle Bin:
Important feature available in Gallery Locker is recycle bin which contains all deleted files, from the Gallery Locker. User can recover files if they were deleted accidentally, you can restore them before 60 days. There is an option to select days to empty recycle bin automatically.
Fake Pin:
Fake pin a wonderful addition to the Gallery Locker app. User can set Fake Pin to show Fake content in gallery locker. Browser & settings are hidden on fake login, other features works normally. User can add some sample files to look like original. Thus ensuring maximum security. Fake pin can also be launched from dialler. By this feature it provides extra security its users and acts as a secondary gallery.
For example:
Let's discuss a scenario, in case if you're under a situation to open Gallery Locker app or forced to put in the PIN by a very close one & you could not avoid the situation, Fake pin is the right solution to help you out. You can use the fake pin to open the app for them without losing your privacy. Fake pin opens up the Fake gallery in the app.
Hide Icon:
Hide icon is an option used to hide the app itself, so no one can find the existence of the app on your mobile. There are three ways available for user to launch the app when it is hidden.
Launch from browser
Launch from dialler
Launch from mange space
Break-In-Alerts:
Intruder Break-in Alerts takes selfie of the person who is trying to break-in with date & time and attempted wrong pin of the intruder. So user can know details who tried to break in.
Uninstall protection is available to protect from accidental uninstall of this app.
Disabling the keypad after failed attempts to enter your pin, you cannot make another pin attempt until the minute is up, user have choice to select the number of failed attempts to disable keypad.
Emergency settings contains screen off action and panic switch.
Screen Off Action:
Screen off Action determines the action to be performed when the Power/Lock button is pressed or screen turn off automatically. The choice has been left to the user to determine the action to be taken when screen is turned off
No Action
Lock Again
Device Home Screen
Panic Switch:
Panic switch an awesome feature available in Gallery Locker Pro version which is used to hide the app in hurry by shake, flip/face down. In case of emergency the app will hide and go to device home screen, using motion gestures to avoid interfering eyes. Providing high security for users.
Verdict:
Gallery Locker does exactly what is expected from it, efficiently & effectively. The app being light has little impact on battery life & memory resources. However, certain small disappointments like no ads, Panic switch, cloud storage (google drive) is not linked with the app. Overall, it's a must have application for the best privacy protection.